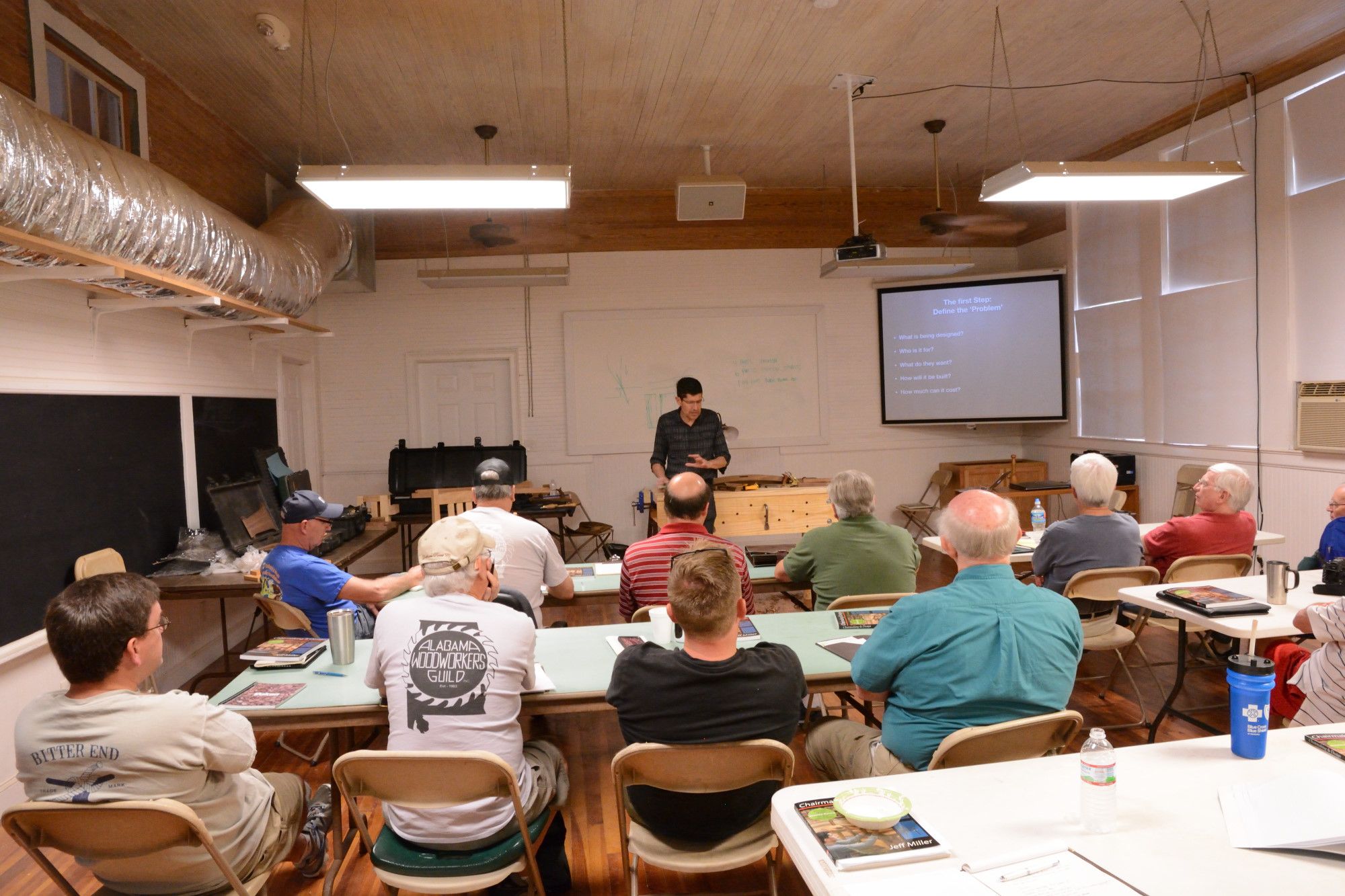 Please note:
You must be a Guild member in good standing to attend classes. Non-members may join here.

Liability Waivers plus Equipment Operation and Safety Training should be completed before the start of class.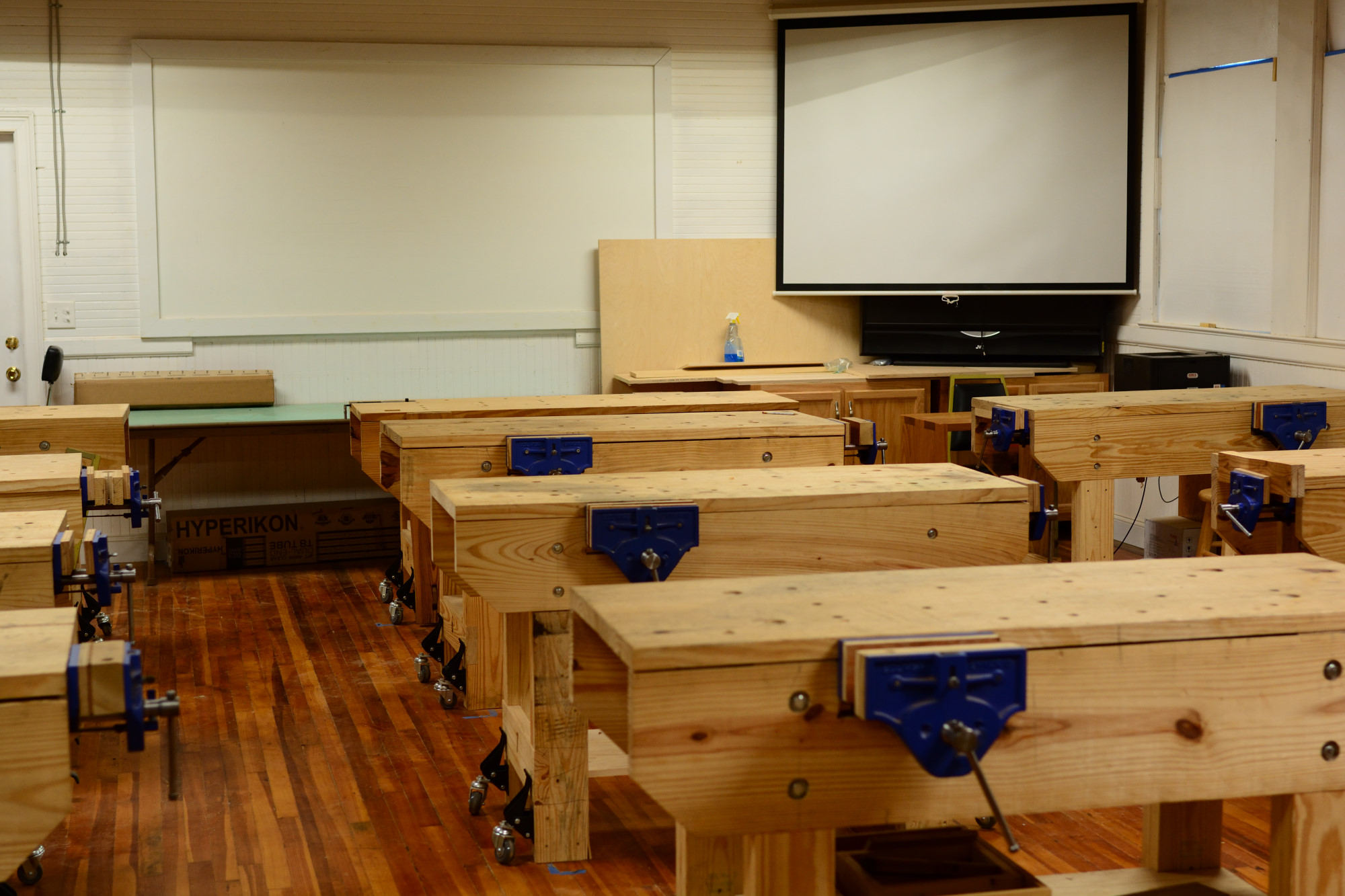 Wow! What a Class We Had. Sorry if you missed this one.
Display Cabinet on Stand with Mike Pekovich

March 9th and 10th, 2019
9:00am-4:00pm

I first came across the writings and work of James Krenov while in college, and they have influenced my approach to the craft ever since. His signature piece was the cabinet-on-stand, and he made many throughout his career. Each one was an exploration of joinery, grain, and form. For more about Krenov's work and his approach to the craft, I recommend A Cabinetmaker's Notebook by Krenov himself.
There is almost no end to the design possibilities the form offers, from proportions to joinery to door and drawer configurations, and it makes a great canvas for any woodworker wanting to try their hand at creating their own designs. While Krenov's influence is apparent in my cabinet, I was able to put to use many design details that I have been working with over the past few years to make it my own. I'll talk about the design decisions I made, as well as the basic construction techniques that went into building the cabinet. In a simple design, each detail takes on an important role in the overall look of the piece. Knowing what you want is only half the battle, being able to execute your ideas with precision and efficiency is just as important.
Over the weekend, I'll demonstrate:
- How to make a dovetailed case with a built-in rabbet.
- How give your dovetails a power assist, and finish off the joint with accurate handwork.
- A no-measure technique for cutting accurate double tenons.
- Adding subtle curves to a design.
- Using offsets to bring a piece to life.
- A versatile method for hanging doors.
- Trimming and hinging a door
- Finishing off a design with a square of kumiko, a traditional Japanese latticework technique.
- A simple shellac technique that I put to use on most of my small projects.
Bio
Mike Pekovich, author of the best-selling The Why and How of Woodworking, spent his college years studying furniture making, fine art, and graphic design, and he's been putting those skills to use designing and building furniture ever since. He also stays busy as a teacher and author, as well as the art director at Fine Woodworking Magazine.
There is a consistent theme in his furniture making, teaching and writing: While there are fundamental woodworking skills and techniques- from sharpening to layout to cutting joinery- that you just have to know in order to do good work, there's more to building furniture than just that. The way we go about working will determine the joy and satisfaction we get from our time in the shop, but what we choose to make is just as important. If we build with the user in mind and strive to make beautiful work that does its job well, we can affect the lives of others is a small but important way.
______________________________________________
Nicholson Workbench Class with Kenneth Graham

March 23-24, 2019
This workbench is named after an 18th century craftsman, author, and publisher. The design combines heft, strength and durability, all of the qualities that make up a long lasting and useful workbench at a reasonable cost.
The workbench is made using 2 x 6, 2 x 12, and 1 x 10 common construction grade material. It also uses ⅜" x 3" bolts, nuts, and washers. The workbench is built as shown. Any additional work holding devices such as vises, bench dogs, or hold fasts are the responsibility of the builder to purchase and install.
If this is your first workbench or a replacement bench, we are sure that you will enjoy building and using your new workbench.
The class will be held Saturday 3/23 and Sunday 3/24. It will be taught by Kenneth Graham and Henry Raymond. Both have been instrumental in building 10 workbenches for the WEC. The total cost for the class is $175 which includes a $50 class fee and an additional $125 for materials so that you can take home a completed workbench.
Cabinet on Stand Group Build

April 6, 2019
May 4, 2019
June 1, 2019
This is a Group Build Class open to those that took the Mike Pekovich class in March, 2019. We will meet the first Saturday of each month, April thru June, to construct your own Cabinet on Stand piece. There is no fee for the course beyond what you paid for the Mike Pekovich class earlier in the year. No formal instruction in this class, but everyone will help each other from lessons learned in the Pekovich class.
Shaker Wall Clock with Ray Ziegler

Class is Full - Registration is Closed.

May 11, 2019
May 25, 2019
June 22, 2019
9:00am-4:00pm
In this three day class you will build this Shaker Wall Clock out of your favorite wood. Approximate overall dimensions are 34 7/8" tall, 11" wide, and 4 1/2" deep. The sample clock is made of cherry wood, but you can use whatever species of wood you prefer.
Day One - Orientation, review plans and special requirements.; Stock Preparation - rough cut lumber and allow to acclimate before final dimensioning.; Prepare to order your clock works, hands, and custom clock face if desired.
Day Two - Build the clock case.
Day Three - Build and install the clock door.
Daisy Box Making Class with Bill Newman

June 8, 2019
9:00am-4:00pm
The class will focus on building a daisy box made on the band saw with a hinged top, mirror inside, and flower petals of contrasting wood on top. The format of the class will be short lectures followed by demonstrations and hands-on construction of a box for each participant. Materials will be provided for all participants.
The class will start at 9:00AM and will last until well after lunch, so please bring a lunch with you if you like.
The fee for the class is $55, which includes materials. You must be a member in good standing to attend.
Habitat for Humanity Cabinet Build Class

Class 1 - August 24, 2019
9:00am-4:00pm
Each year the Guild builds kitchen cabinets and bathroom vanities for a Habitat for Humanity Holiday House. This class will take you through the complete steps of building cabinets, from face frames, carcass construction, doors, dovetailed drawers, finishing, and installation in the home. You work in teams of 4-5 people and everyone gets to do every step of the project. Starting the end of August and finishing with installation mid December, the class will meet once or twice a month to complete the cabinets.
Class 1 - August 24, 2019 - Orientation and Face Frame Build
Class 2 - September 7, 2019 - Carcass Construction
Class 3 - September 14, 2019 - Drawer Boxes
Class 4 - October 5, 2019 and possibly October 6, 2019 - Doors and Drawer Fronts
Class 5 - October 26, 2019 - Spray Finish
Class 6 - November 9, 2019 - Attach Doors, Drawers, and Pulls
Class 7 - Early December - Installation of Cabinets at Holiday House
Class 8 - TBD - Holiday House Dedication
Box Joint Class with Bill Newman
Class Full

September 28, 2019
9:00am-4:00pm
The class will focus on building two different types of box joint jigs for use on a table saw. Due to the uniqueness of each participants table saw, this will be a demonstration type class where you will be shown how to build and use the various box joint jigs for your own table saw. After constructing an example box joint jig in class, you will have the opportunity to practice using the the jig to make a box joint. Materials will be provided for demonstrations.
The class will start at 9:00AM and will last until well after lunch, so please bring a lunch with you if you like.