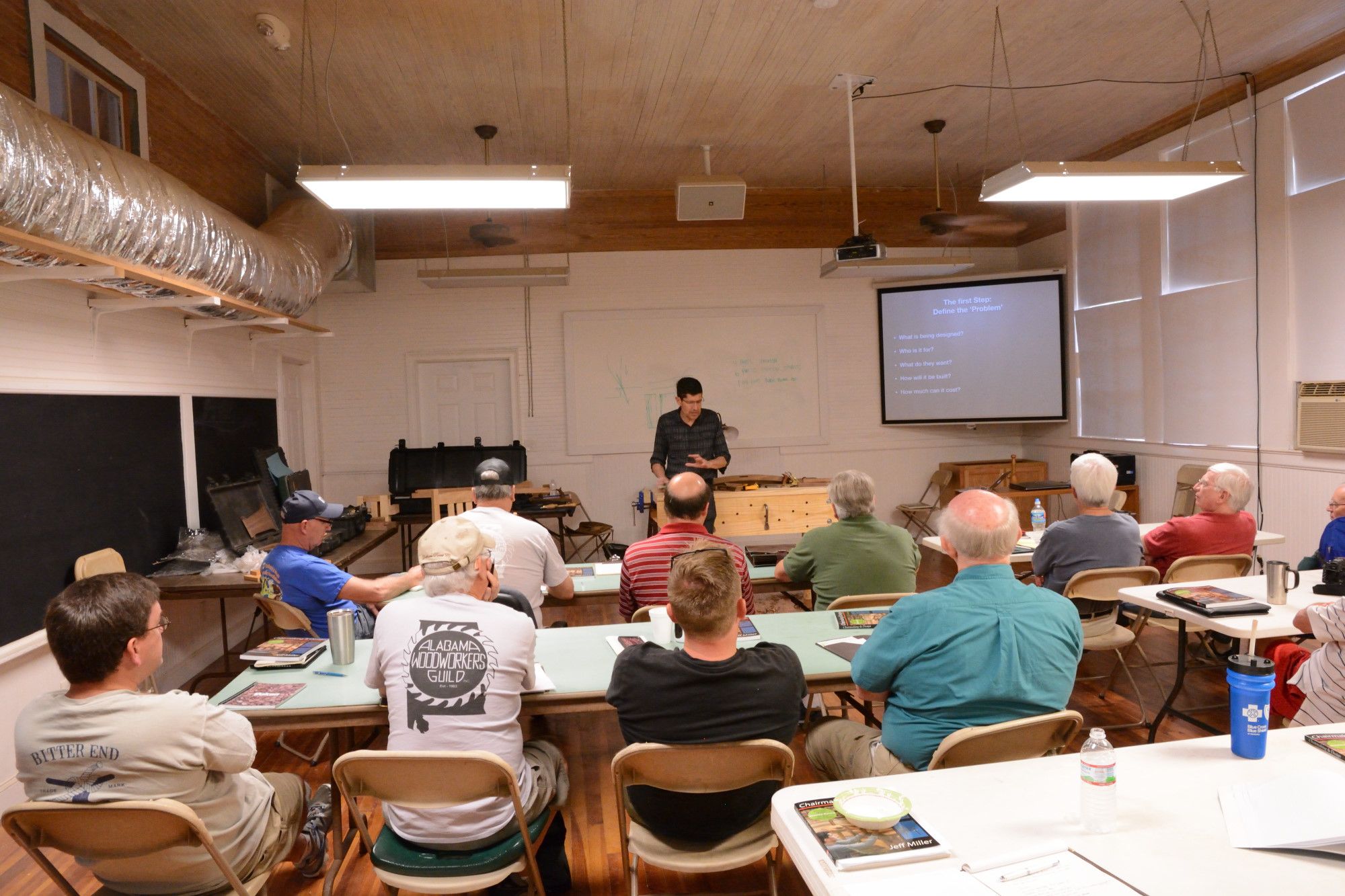 Please note:
You must be a Guild member in good standing to attend classes. Members of other recognized Woodworking Groups or Guilds will be considered Members for purpose of class registration. Non-members may join here.

Liability Waivers plus Equipment Operation and Safety Training should be completed before the start of class. 

To apply for tuition assistance from the Master Class Scholarship Program, click here for an Application Form.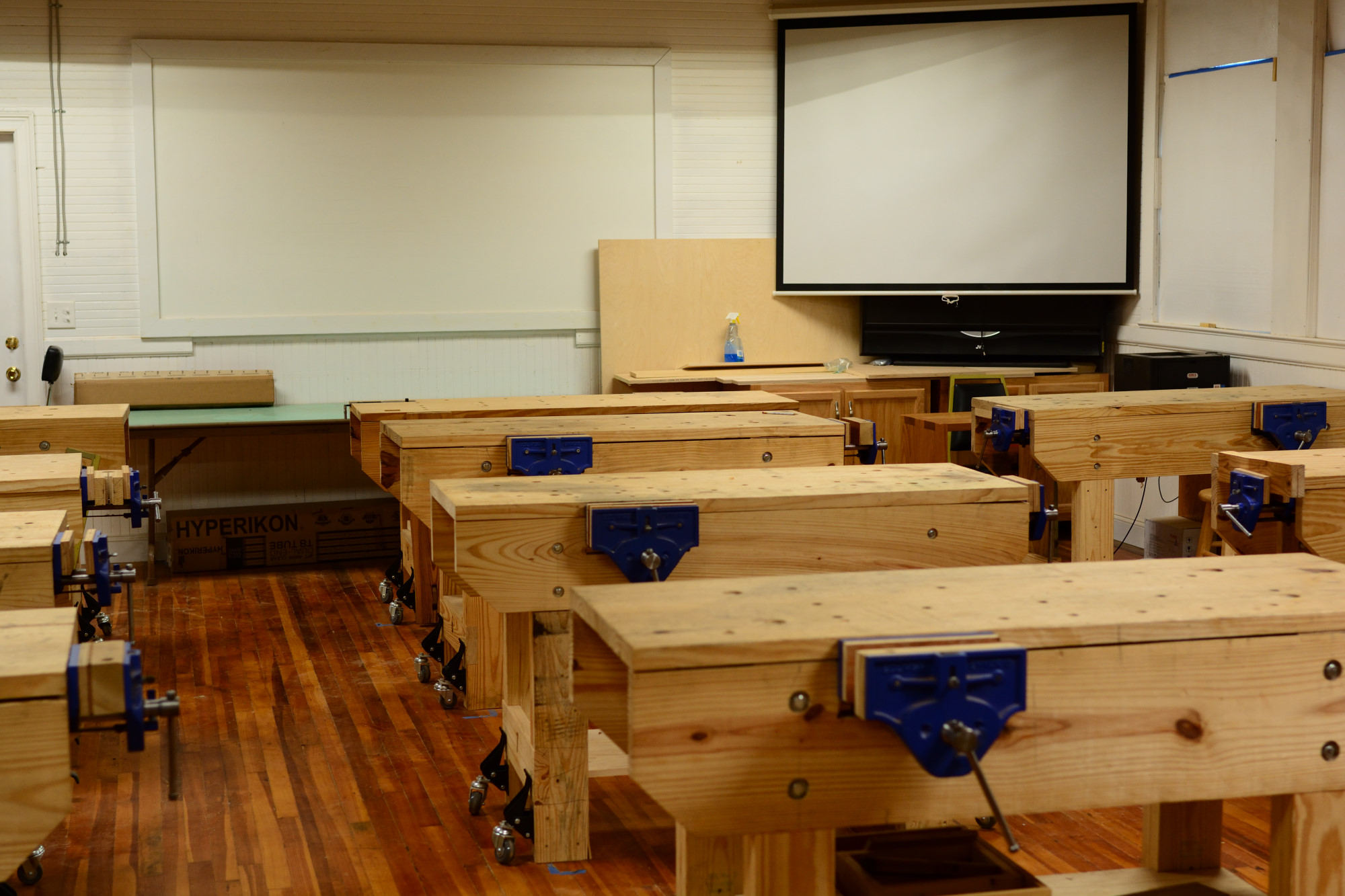 Inlay Master Class with Jack Smoot

July 24th and 25th, 2021
9:00am-4:00pm
Cost $175.00, Non-Members $225.00
This workshop will be a two day hands on class with demonstration of techniques by the instructor. The first day of the workshop will be spent learning and applying the special skills involved with the art and craft of shell inlay; participants will start with a fairly simple design and learn how to cut, fit and inlay shell; once comfortable with these skills participants can begin work on inlays of their own design and apply them to projects they have brought with them. Usually, such projects offer different challenges and techniques than the sample project demonstrates which allows for further demonstration and learning opportunities.
The workshop will cover the following topics:
Working with shell, including design principles, selection, handling and limitations of the material, and use of alternate materials such as recon stone and metal.
Uses for shell inlay.
Tools and techniques for working with shell, including cutting, grinding and fitting shell and router basics as applicable to shell inlay.
Special situations requiring modification of standard shell inlay techniques (for example, inlaying a curved surface, inlaying instrument fretboards, etc.).
Sources for inlay materials.
Prerequisites:
No previous experience is required for this class.
Tools or materials required that are not included in the class fee:
Not required but very convenient to have so you don't have to share. I will be bringing one or two of each of the items that are starred for everyone to use.:
Work light (if you have a light that can focus on your work area that can be helpful instead of relying on overhead lighting.)
* Sanding block —you can make one out of scrap wood or use a "real" one. It should be comfortable to hold and at least 3.5" long.
Items included:
Rosewood blank (1 per participant) for first project
[Note: In addition, I will bring lots of extra inlay material (several varieties of shell, recon stone and square brass wire) which will be available for purchase. Each participant will be given a material purchase list and they can add (or subtract) from that list to keep an accounting of the materials used; purchases (or refunds) will be payable to me.]
Jack will have available for purchase the following items:
Extra jeweler's saw  blades in various sizes
Extra router bits
Assortment of shell blanks of various types (priced per piece) including white, gold and black Mother of Pearl, Abalam Paua, abalone, sea snail, pink mussel (most are .040" thick)
Shell dots, and an assortment of precut designs
Assortment of recon stone (various colors)
Square Brass wire 1/32" & 1/16" —about 2' length or so of each
Bio
Woodworking was a natural progression of Jack's interest from childhood in learning how things are put together.
He built his first mountain dulcimers in the mid 1980's: the first for his daughter and the second for himself, as a means of giving her a way to pursue traditional music, as well as for them do this together. Those dulcimers were built according to a 2-page instruction in a 1985 edition of The Woodworker's Journal. Jack continued to build as well as play the instruments whose name means 'sweet sound'.
It was also at a dulcimer gathering that Jack met his now-wife, Sally. Sally introduced Jack to the John C Campbell Folk School, where his first class was in dulcimer building under the instruction of dulcimer builder, Horger Knight; they became friends. When the school was looking for additional dulcimer instructors, Horger recommended Jack, and Jack began teaching there in the mid 1990's; he continues to teach week-long dulcimer building classes. He has also served on the folk school's board of directors.
After retirement from the Missouri Department of Natural Resources as an historic site administrator at a grist mill and covered bridge, Jack and Sally moved to Brasstown, NC, to enjoy the folk school and surrounding community. His work in his home shop includes building dulcimers, ukuleles and an occasional washtub bass; he also made the Windsor chairs around the dining room table. His work in instrument building led to an interest in developing inlay skills.
Jack graduated from Southeast Missouri State University in 1975 with a major in art and minor in philosophy; in his own words, "virtually useless in the job market". Subsequent jobs included work as a chimney sweep, a public school art teacher, an upholsterer, and an exhibit designer/builder at the Missouri state museum; the latter led him to his longterm career in historic preservation.
He has been a long-time member of the Society for the Preservation of Old Mills, and has served on its board.
Jack has been known to tell a story or two, and to enjoy a good martini….but only after closing down the woodshop. He is also especially proud of an extensive rubber chicken collection, including his rubber chicken inlays, one of a kind.
He is grateful for his ability to enjoy woodworking, as well as for the opportunities to pass on what he has learned.
The fee for the class is $175 for members and $225 for non-members. Members of other recognized Woodworking groups or guilds may sign up at the Member rate. The extra $50 for non-members will be applied toward Guild membership should you decide to join the Alabama Woodworkers Guild.
Decorative Box Making Master Class with Doug Stowe
********************************************************
Class Full - Registration is Closed for this class.
********************************************************
August 21st & 22nd, 2021
9:00am-5:00pm
AWG Woodworking Education Center
Cost $175.00, Non-Members $225.00
The CDC issued the following updated guidelines on July 27 2021
"To maximize protection from the Delta variant and prevent possibly spreading it to others, wear a mask indoors in public if you are in an area of substantial or high transmission."
In light of those recommendations coupled with the rise in COVID cases in Alabama and for the safety of class participants and instructors, we are requesting all class participants and instructors, whether vaccinated or not, wear mask and maintain a social distance while attending the class.
When you met Doug Stowe you will soon learn that he is a most accomplished woodworker. Doug is known throughout Arkansas for his unique custom furniture. But after being with Doug for a short period of time, you will know him as a professional woodworker whose passion is the creation of unique decorative boxes and providing hands on woodworking experiences for kids.
Doug will conduct a two day face to face demonstration Master Class on decorative box making on August 21 and 22, 2021. The participants will learn skills that will increase speed, accuracy and craftsmanship in all fine woodworking. These are the skills essential for creating beautiful boxes but also crucial to creating attractive and structurally sound wall cabinet, sugar chest, tool chest, and all types of furniture that include the box as a basic structural component.
Doug teaches at Marc Adams and Connecticut Valley Schools of Woodworking and shares his experience with Woodworking Guilds throughout the USA. He is a several times winner of the Vaughn Golden Hammer award for writing in woodworking. His latest publication focuses on teaching woodworking to kids.
In an article written for Arkansas Online, Stowe's accomplishments were highlighted by Laura Jo Hightower. She writes, "Stowe runs his hand over his latest work of art, a gorgeous, 8-foot long, 3-inch thick silver maple slab he has planed and sanded to the consistency of velvet. The feel of it is so sumptuous, it's difficult to pull one's hand away. It will eventually be a dining room table, the place a family from Little Rock will gather for family dinners and celebrations."
"Stowe is a woodworker, obviously, and a craftsman, certainly, but he actually has a plethora of titles: He founded the Eureka Springs Guild of Artists and Craftspeople in 1977 and is one of three co-founders of the Eureka Springs School of the Arts, which has been educating a new generation of artists and craftspeople for nearly 20 years."
Doug has influence the arts in Arkansas in many ways throughout his career. He's is the creator of the Wisdom of the Hands Program at Eureka Springs' independent school, Clear Spring School. While developing this program, Stowe became an expert in "educational sloyd," a Finnish system that emphasizes education through handicrafts. His philosophy that developed through his research into this system is in bold type across his website: "I have found that nearly everything in human life is enriched if your hands are engaged in its exploration."
Not only will Doug Stowe's workshop stress sound woodworking techniques but his artistic considerations that have guaranteed that his little boxes are neither made of ticky tack nor sit on a hill top all the same.
The fee for the class is $175.00 for members and $225.00 for non-members. Members of other recognized Woodworking groups or guilds may sign up at the Member rate. The extra $50 for non-members will be applied toward Guild membership should you decide to join the Alabama Woodworkers Guild.
Habitat for Humanity Cabinet Build Class

August 28, 2021
9:00am-4:00pm
Cost $100.00
Each year the Guild builds kitchen cabinets and bathroom vanities for a Habitat for Humanity Holiday House. This class will take you through the complete steps of building cabinets, from face frames, carcass construction, doors, dovetailed drawers, finishing, and installation in the home. You work in teams of 4-5 people and everyone gets to do every step of the project. Starting the end of August and finishing with installation mid December, the class will meet once or twice a month to complete the cabinets.
Class 1 - August 28, 2021 - Orientation and Face Frame Build
Class 2 - September 11, 2021 - Drawer Boxes
Class 3 - September 25, 2021 and September 26, 2021 - Doors and Drawer Fronts
Class 4 - October 16, 2021 - Carcass Construction
Class 5 - October 30, 2021 - Spray Finish
Class 6 - November 13, 2021 - Attach Doors, Drawers, and Pulls
Class 7 - Early December - Installation of Cabinets at Holiday House
Class 8 - TBD - Holiday House Dedication
The fee for the class is $100. You must be a member in good standing to attend.
You may pay using the PayPal button below to reserve your place in the class. Please respond via email at education@alabamawoodworkersguild.org with your name if you plan to take the class.
Tool Chest with Mike Pekovich

March 12th and 13th, 2022
9:00am-4:00pm
Cost $175.00, Non-Members $225.00
While a wall-mounted cabinet is a great way to store tools, it's not always the most practical solution. If you haven't set up shop yet, or need to frequently move your tools, then a tool chest might be a better way to go. A while back I had made a travel chest to take along when I teach, and it has become a home-away-from home for me. While protecting your tools is a big concern, a tool chest should also act as a work station allowing fast, easy access to the tools you need when you need them.
Over the weekend, I'll demonstrate:
-Sizing a tool chest for the tools you have (and the tools you want).
- Tips for dovetailing larger case parts.
- Accurate no-math layout for through mortise-and-tenons.
- Sawing and chopping through mortise-and tenon joinery.
- Strategies for square, gap-free case glue-ups.
- Making a frame-and-panel lid at the tablesaw.
- A fast method for hinging the lid.
- Making a simple lid stay.
- Sizing and making a dovetailed drawer.
- A no-headache method for installing locksets.
- Organizing tools with partitions
- Simple shellac and wax finish
Bio
Mike Pekovich, author of the best-selling The Why and How of Woodworking, spent his college years studying furniture making, fine art, and graphic design, and he's been putting those skills to use designing and building furniture ever since. He also stays busy as a teacher and author, as well as the art director at Fine Woodworking Magazine.
There is a consistent theme in Mike's furniture making, teaching and writing: While there are fundamental woodworking skills and techniques that you have to know in order to do good work, there's more to building furniture than just that. How you put those skills together into a logical step-by-step approach to building will determine the success you have in the shop as well as how enjoyable the time you spend in it. Mike's focus is on helping you to determine the roadmap that will get you to the end results you're striving for as easily and and as stress-free as possible.
The fee for the class is $175.00 for members and $225.00 for non-members. Members of other recognized Woodworking groups or guilds may sign up at the Member rate. The extra $50 for non-members will be applied toward Guild membership should you decide to join the Alabama Woodworkers Guild. You may pay using the PayPal button below to reserve your place in the class. Please respond via email at education@alabamawoodworkersguild.org with your name if you plan to take the class.
| | |
| --- | --- |
| | |
| Member $175.00 | Non-Member $225.00 |