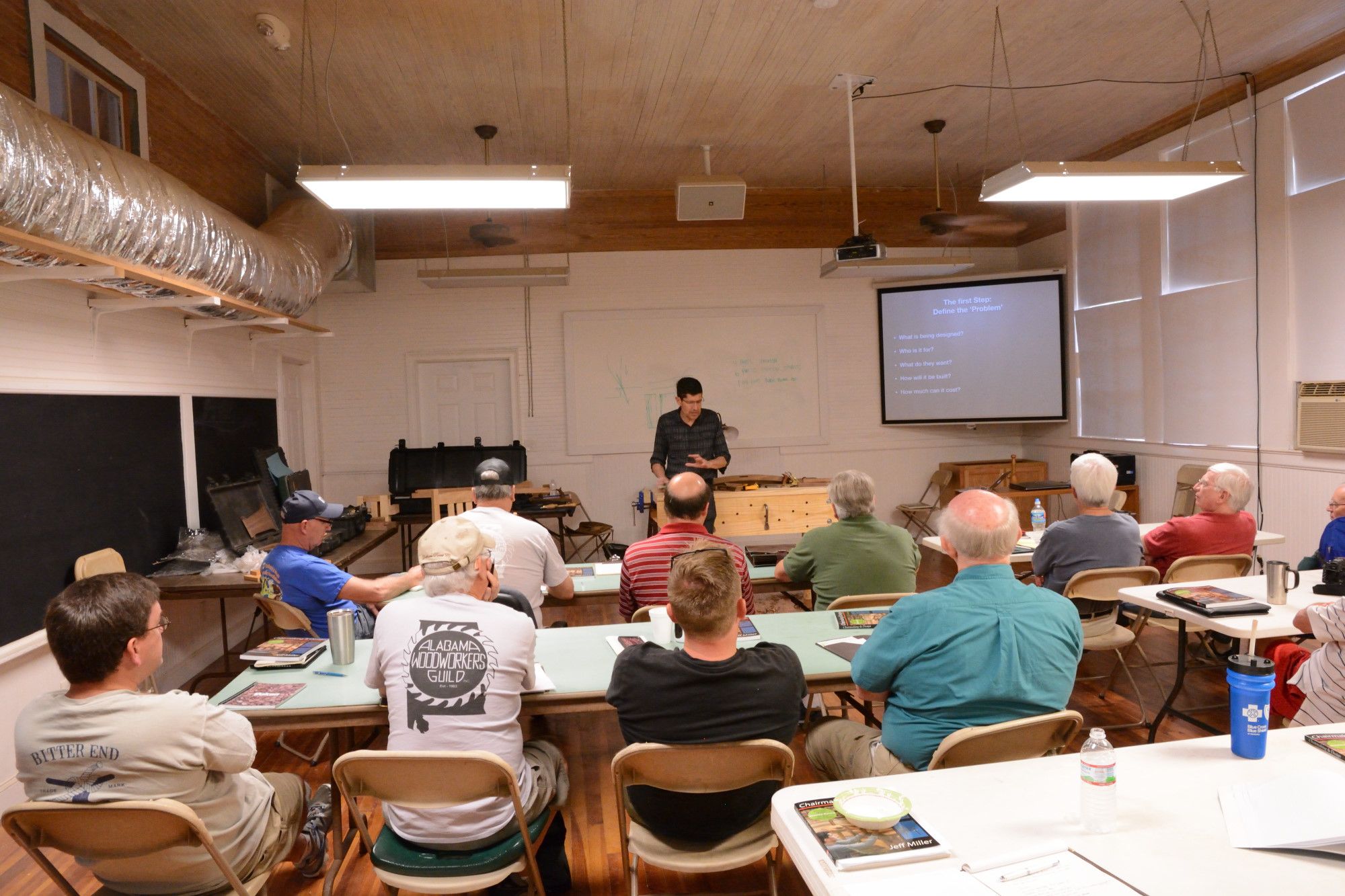 Please note:
You must be a Guild member in good standing to attend classes. Members of other recognized Woodworking Groups or Guilds will be considered Members for purpose of class registration. Non-members may join here.

Liability Waivers plus Equipment Operation and Safety Training should be completed before the start of class. 

To apply for tuition assistance from the Master Class Scholarship Program, click here for an Application Form.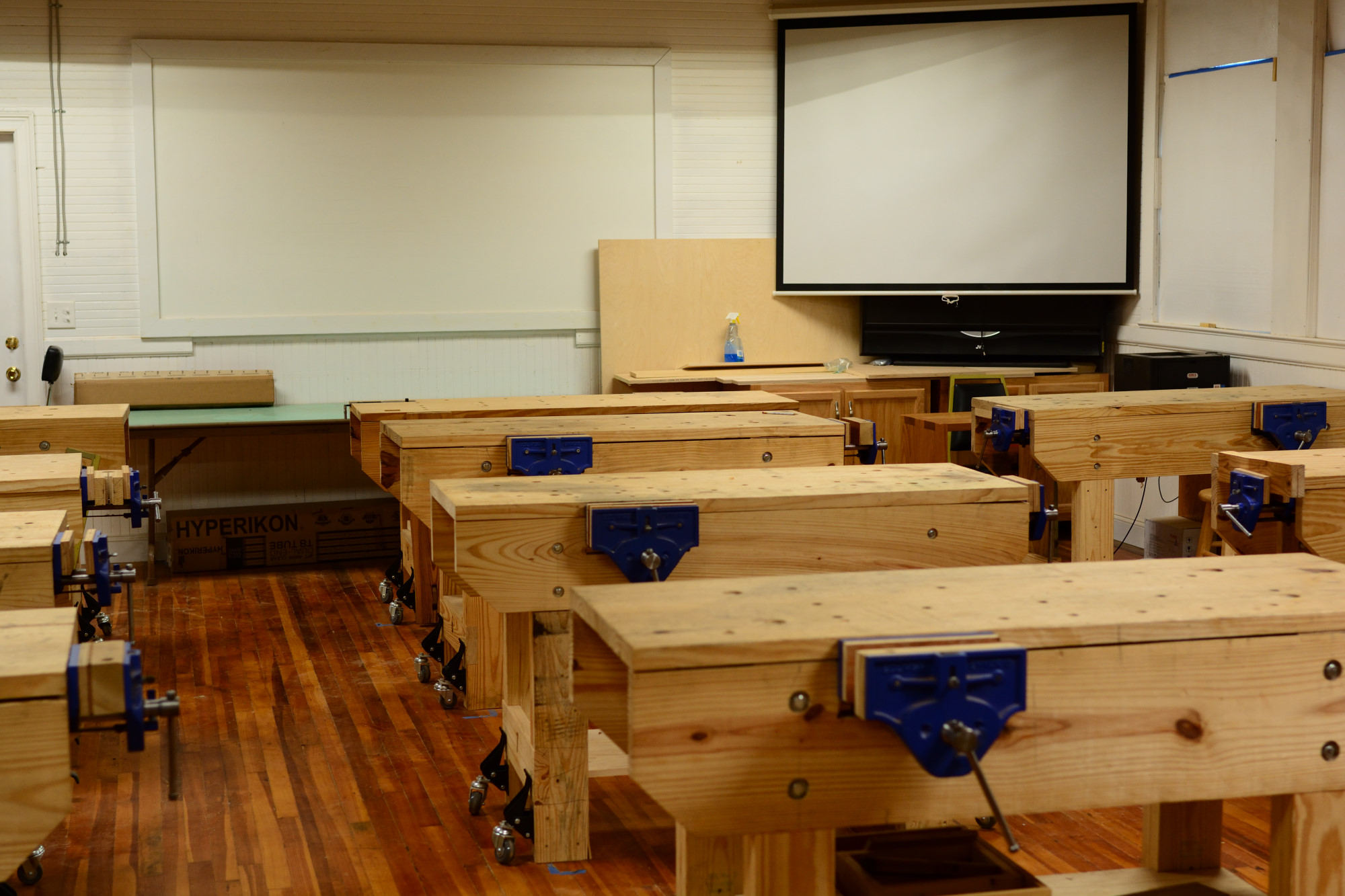 Tuesday Fundamentals Workshop

Every Tuesday Evening
5:00pm-9:00pm
Cost Free
Join us every Tuesday evening from 5:00pm to 9:00pm for a Woodworking Fundamentals Workshop. Each week we will cover a different topic related to woodworking, from sharpening blades, table saw techniques, panel glue-ups, resawing on the bandsaw, etc. You can also get your questions answered related to your current project.
From 5:00pm to 6:00pm we will help address any questions or problems you may be having with your current projects.
From 6:00pm to 8:00pm we will cover the weekly topic. (check the calendar for topic)
From 8:00pm to 9:00pm you can practice the lessons learned each week and then clean up.
Topics for the week can be found on the website's calendar under each Tuesday.
This is not an open shop night, it is an instructional class night. The cost is free unless noted on the calendar for a special project that requires an additional material fee.
Though not required, if you plan on attending a Tuesday night class it would be helpful for planning if you could send an email to education@alabamawoodworkersguild.org and just let us know you plan to show up.
Habitat for Humanity Cabinet Build Class

August 26th, 2023
9:00am-4:00pm
Cost $100.00
Each year the Guild builds kitchen cabinets and bathroom vanities for a Habitat for Humanity Holiday House. This class will take you through the complete steps of building cabinets, from face frames, carcass construction, doors, dovetailed drawers, finishing, and installation in the home. You work in teams of 4-5 people and everyone gets to do every step of the project. Starting the end of August and finishing with installation mid December, the class will meet once or twice a month to complete the cabinets.
Class 1 - August 26, 2023 - Orientation and Face Frame Build
Class 2 - September 9, 2023 - Drawer Boxes
Class 3 - September 23, 2022 and September 24, 2022 - Doors and Drawer Fronts
Class 4 - October 14, 2023 - Carcass Construction
Class 5 - October 28, 2023 - Spray Finish
Class 6 - November 11, 2023 - Attach Doors, Drawers, and Pulls
Class 7 - Early December - Installation of Cabinets at Holiday House
Class 8 - TBD - Holiday House Dedication
The fee for the class is $100. You must be a member in good standing to attend.
You may pay using the PayPal button below to reserve your place in the class. Please respond via email at education@alabamawoodworkersguild.org with your name if you plan to take the class.
Box Building Class with Bill Newman and Gary Crosson

Saturday, November 4th, 2023, 9:00am-4:00pm
Instructor - Bill Newman and Gary Crosson
Cost $45.00
Class size is limited to 6 participants.
Class Full

Bill Newman and Gary Crosson will present a box building class on November 4, 2023 at the Woodworking Education Center. This is a "build it" class, and the participants will leave with the box they made in class.
The class will focus on building a box with keyed miter joinery and glued-in top and bottom panels. Instruction will cover the topics of material selection, observation and matching of grain flow, cutting slots for and installing keys (sometime called splines), making rabbets for installation of tops and bottoms, making and installing a "slip liner" for indexing the box top, and a discussion/demonstration of application of veneer to the tops and bottoms of the boxes. Bill and Gary will address basic woodworking principles such as direct measurements, use of hand planes for final fitting, and general techniques to improve the quality of outcomes. All materials will be furnished.
Participants must be signed off on the table saw and router prior to class.
Class Full

Class is limited to 6 people.