Making Sawdust With A Purpose.
Working Groups
We have many working groups for our members to participate in. Some are designed for member education and others are working groups to complete projects such as toys or cabinets.
Next Guild Meeting is scheduled for Saturday, August 19th, 2017
Get ready, it's Almost here:
Alabama Woodworkers Guild August 19th General Meeting:
8:00am August SketchUp Workshop Topic: Dovetail Joinery
9:00am August Mentoring Series: Keeping those Edges Sharp
Ray Ziegler will demonstrate and discuss some techniques and ideas on how to keep your chisels and planes sharp.
10:00am August Program: Your Project and Your Material Selection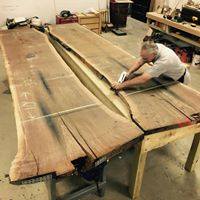 Our August Program will feature David Traylor of City Hardwoods. David will take a look at how and where the average woodworker chooses their lumber for their different projects. He'll share tips, tricks and ideas on how to get the most out of your next project. For those who may have heard David before, you know he is great at capturing our attention and has experience across the woodworking spectrum! You'll want to get to the WEC early to get a good seat for this one!
________________________________________
The Guild Meetings are open to the Public and Guests are always welcomed to come out and see what the Alabama Woodworkers Guild is all about!